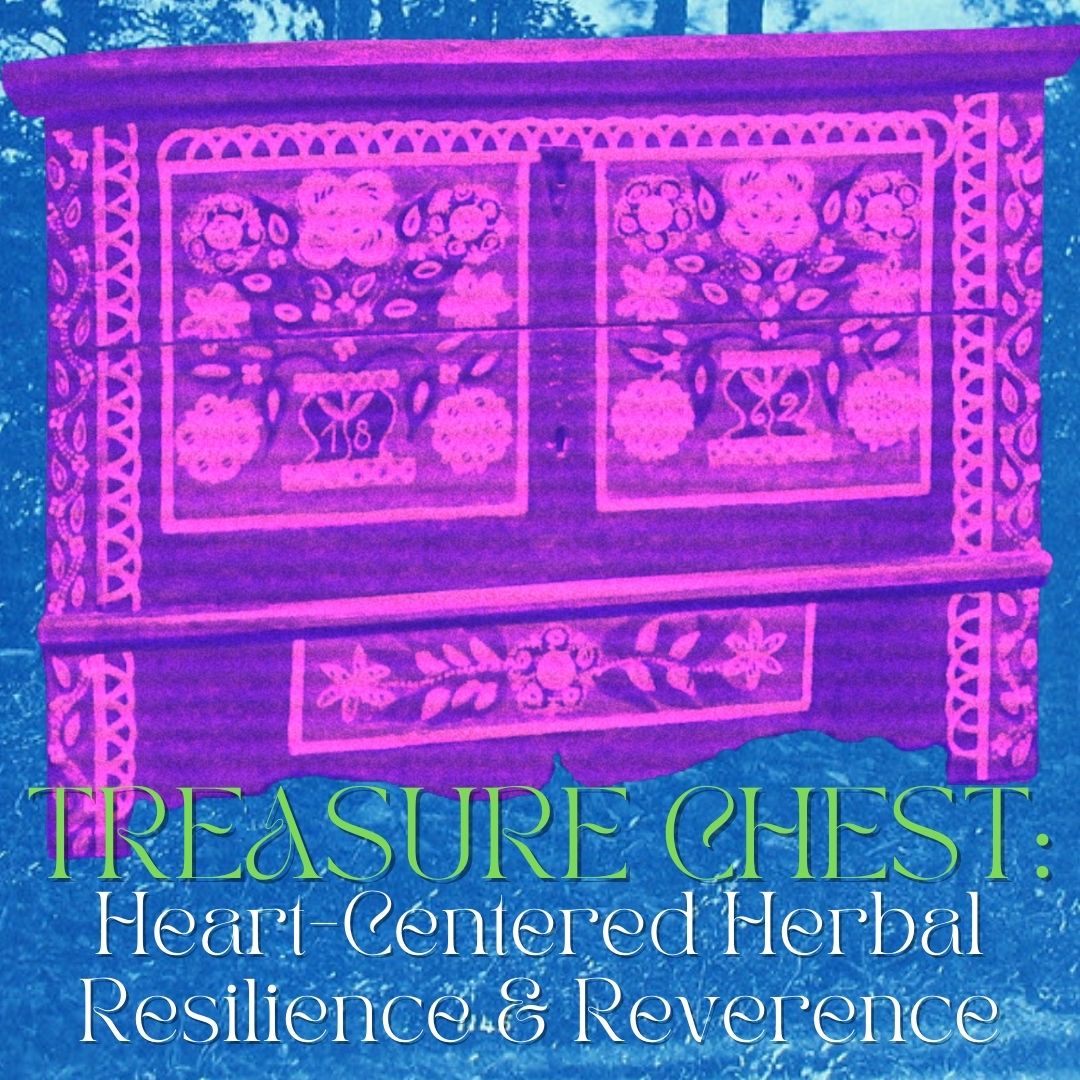 Treasure Chest:
Heart-Centered Herbal Resilience & Reverence

The treasure chest is a place where we keep that which we want to hold close to our hearts. Our ancestral treasures, our secret longings and our special gifts dwell here. The treasure chest is a site to tend to what we value most, what we hold as Beloved.

This four-week series calls on the green-blooded ones that steward an openly imaginative heart. You will be supported in building relationships with plant allies for anxiety, heartbreak and strong spirits as well as offered magical practices for cultivating resilient hearts during devastating times. Through medicine making, generative writing practice, trance work and herbal ritual in and outside of class, your treasure chest will be fully stocked with the gifts and blessings of the plants.


Opening the Treasure Chest: A Class Syllabus*
Week One: The work of Anchoring & Blessing
Week Two: Nourishing Vulnerability
Week Three: Flowing Grief & Flowering Tenderness
Week Four: Practicing Passion & Desire

*Subject to Change

Schedule:
We meet on zoom every other week, to provide spaciousness for practice and integration. Classes will be recorded and students will have access to all of class materials through the summer solstice 2023. We meet from 3-5 pm EST on the following Wednesdays:

April 12
April 26
May 10
May 24

In order to create an intimate space, this is a smaller offering, with only 13 spots available. It is not necessary that you attend every class in person, but I do belive it is more powerful to do so when able. Please consider this upon registration and hold the intention to attend as many in-person sessions as possible.

You will recieve:
Participants will receive one anointing oil, two flower essences, one tincture and some dried herbs as a part of their registration (a $70 value). They will also receive a list of plants that they can procure on their own in order to make recipes at home that are offered in class. Please note that if you are registering from outside the US, there will be an added fee to cover addititonal shipping costs.
A note:
We welcome grief, tenderness, tears, broken hearts, confusion, and know that all of these experiences are big and real and present for so many of us! However, this class is *
not
* therapy and is not a replacement for therapy. We ask that you check-in and additionally resource yourself if need be.
Class Cost:
$395
Register Here!